Management
We apply a philosophy of "proactive" management with all our projects; whether it is a shutdown, a maintenance job, or long-term projects. To make management optimal on every project, Oslo Construction follows these three principles that are represented below in our company's logo.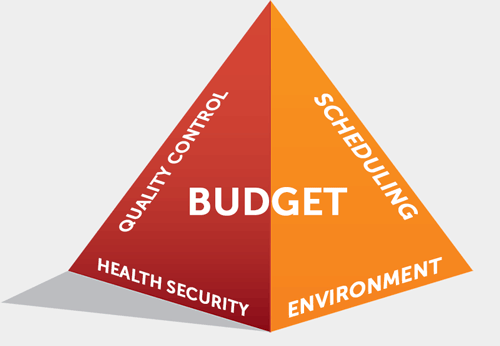 At the base of our pyramid, we are dedicated to the best health, security and environment on every site. The body of the pyramid represent the budget allowed for a certain project. The frame of the body is then limited by the respect of the scheduling and the quality control of our products.
Oslo Construction's core values include:
Qualified workers
Respect of our partnerships
A safe working environment and motivation for our employees
Rigorous monitoring of budgets
Respect of timelines
Giving to our customers a safe installation and a high level of quality to satisfy their needs, meeting the ISO 9001:2008 code and standard of the industry.